This document describes the EHF Catalogue format to be used for the exchange of Catalogue information between trading partners. The document is part of Norwegian "The Norwegian Agency for Public and Financial Management" (Difi) standardization work related to electronic commerce.
Reporting bugs

Please use Github Issues to report bugs and lack of content when discovered. Users currently not registered on Github may create an account for free.
1. Changelog
1.1. Consequences of Implementing this version
Version 1.0.15 is a revision of EHF Catalogue 1.0, and this version is backwards compatible to EHF Catalogue 1.0. This means that any instance documents valid towards EHF Catalogue 1.0 is also valid in version 1.0.15. Please note that valid here reflects the validity against the implementation guide of EHF Catalogue 1.0, as this is the normative reference.
3. Definitions
Catalogue

A document describing the properties of products and services.

Supplier

A person or company delivering products or services.

Buyer

A person or company buying a product or service at a set price.

Catalogue provider

A person or company collecting catalogue information and sending the catalogue.

Catalogue receiver

A person or company that is responsible for the reception of the catalogue.

UBL

UBL (Universal Business Language) is a collection of XML-formats (XML Schema) for the exchange of electronic documents such as Catalogue, Order and Invoice.

CEN BII

CEN BII (Business Interoperability Interfaces) is a subset of UBL containing documents and content that is required for electronic collaboration in the European public sector.
Does not include separate XML Schemas.

Schematron validation

Validation of a message towards business requirements. Additional to the syntax check against XML Schema.
4. Principles and Prerequisites
This chapter describes the catalogue process and functional requirements covered by EHF Catalogue. The description is based on the CEN BII profile BII01 Catalogue Only.
4.1. About the Catalogue Messages
The messages covered by this Implementation guide are EHF Catalogue and EHF Catalogue Response. Buyer and Seller must exchange both messages electronically to be in compliance with this guide.
An Electronic Catalogue is a listing of products and services to be used in a purchasing process. The EHF Catalogue can serve different purposes during the lifecycle of Catalogue information:
Establish a new Catalogue

Replace an existing Catalogue

Add or delete Catalogue lines

Update product properties or prizes on existing Catalogue lines
When doing changes to catalogue lines, it is recommended to replace the whole catalogue and not update separate lines.
A Catalogue containing sufficient information about articles and services will prevent faulty deliveries causing lost income for both suppliers and buyers.
Most often an Electronic Catalogue will be integrated with a Catalogue tool and a Search engine. The Search engines are set up differently providing possibility to search for different catalogue elements. The number of elements available will decide the preciseness of the search, and a well set up Search engine will in the end improve the quality of the purchase.
4.2. Functionality and Roles
This Implementation Guide covers exchange of catalogues in a post-award process, i.e. after the contract is signed between supplier and buyer. The content may also be used in a pre-award process (tendering), but with less mandatory elements.
The figure below shows the business functions and roles covered by EHF Catalogue.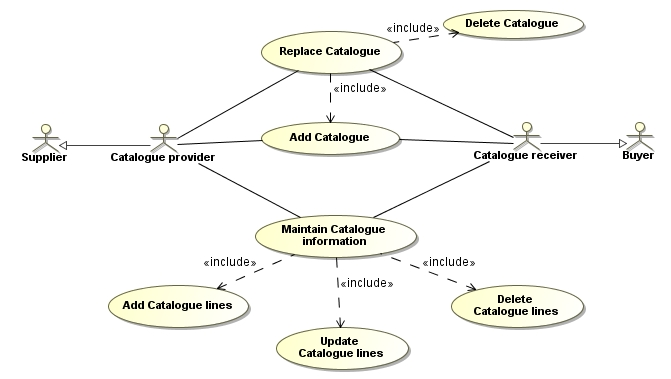 4.3. Profiles and messages
All messages contains ProfileID and CustomizationID. ProfileID identifies what business process a given message is part of, and CustomizationID identifies the kind of message and the rules applied.
Profiles are connected to one business process, and may contain multiple document types. Valid document instances must contain corresponding ProfileID and CustomizationID.
The listing below are related document types connected to the role of receiver in the conversation. Registration in ELMA describes the receivers capabilities.
| | |
| --- | --- |
| | CustomizationID is a string without spaces. The list below contains spaces in CustomizationID to make them easier to read. Make sure to remove any spaces before use. |
4.3.1. Profile 01 - Catalogue
ProfileID

urn:www.cenbii.eu:profile:bii01:ver2.0
| Type | CustomizationID | Role |
| --- | --- | --- |
| Catalogue | urn:www.cenbii.eu:transaction:biitrns019:ver2.0 :extended:urn:www.peppol.eu:bis:peppol1a:ver2.0 :extended:urn:www.difi.no:ehf:katalog:ver1.0 | Contracting Authority |
| Catalogue Response | urn:www.cenbii.eu:transaction:biitrns058:ver2.0 :extended:urn:www.peppol.eu:bis:peppol1a:ver2.0 :extended:urn:www.difi.no:ehf:katalogbekreftelse:ver1.0 | Economic Operator |
4.4. Catalogue Process
The Catalogue exchange is the first part of the post-award process and can be described as follows:
The Catalogue provider (Supplier) collects information about products or services and transforms these into a Catalogue format. This can either be a complete Catalogue or a Catalogue containing selected articles with changes.

The Catalogue is sent to the Catalogue receiver (Buyer) either directly or via a third party.

The Catalogue receiver controls if the Catalogue is syntactically correct and contains sufficient information.

If the Catalogue is accepted, the Catalogue receiver sends a positive Catalogue Response to the Catalogue provider. The Catalogue is now approved for ordering purposes.

If the Catalogue is rejected, the Catalogue receiver sends a negative Catalogue Response to the Catalogue provider with an explanation to the rejection. The Catalogue provider will make corrections to the Catalogue and resend it.
Figure 2 shows the Catalogue process including the exchange of the EHF Catalogue messages.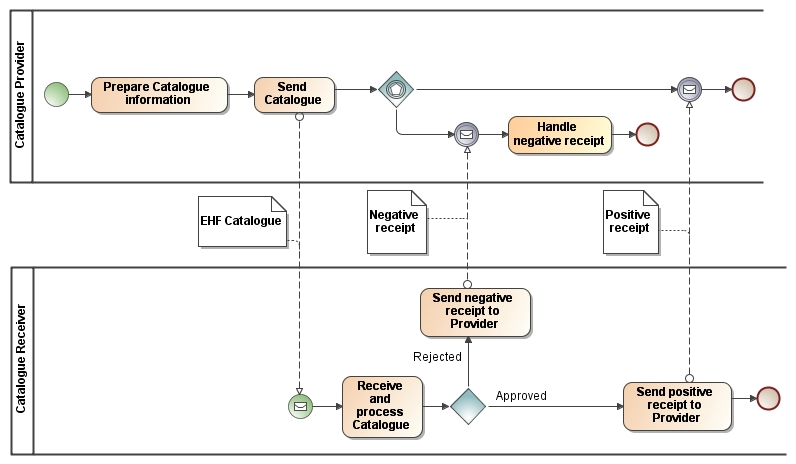 4.5. Catalogue Response
The Catalogue Response message is part of the Catalogue process described in chapter 5.4. The Catalogue Response is sent from the Catalogue Receiver/Buyer to the Catalogue Provider/Supplier as a business receipt stating that the Catalogue is accepted or rejected.
In other words, this is not a technical receipt only stating that the catalogue message is received.
The Catalogue itself will not be returned from buyer to supplier. If a Catalogue message is rejected, a new corrected Catalogue must be sent.
If the exchange involves the use of a Catalogue tool, this may include a more advanced dialogue between buyer and supplier than described here.
6. Validation
To optimize the flexibility in the validation process, each EHF document is validated in different stages with shifting focus in every stage. The pyramid below illustrates the different stages.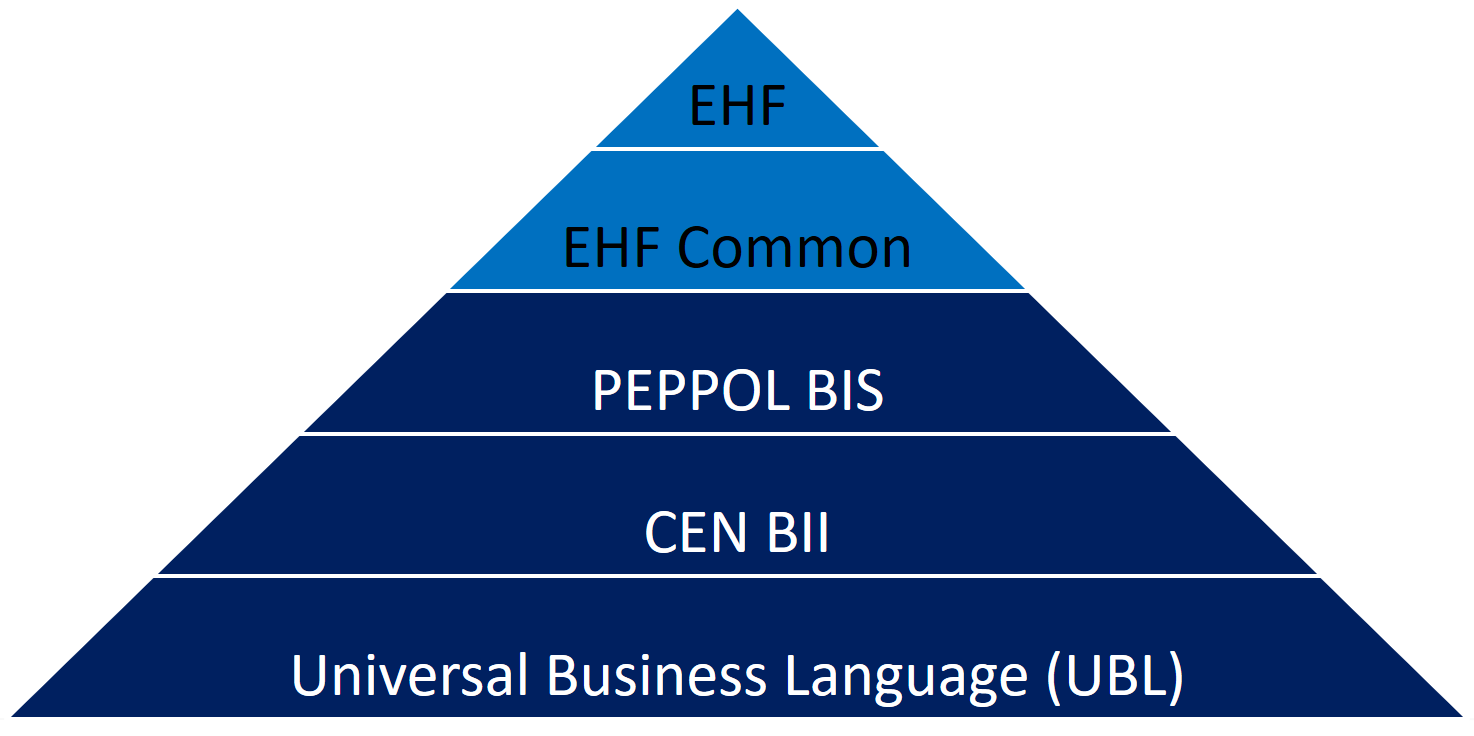 6.1. Validation Principles
Stages in the validation process:
Validation of syntax against UBL 2.1 Schema, for example:

Tag names and attributes must be correctly written and follow the UBL 2.1 sequence

All UBL 2.1 mandatory tag names must be present.

The element's contents must be according to the element's type definition.

Validation against CEN BII Core to verify that the message is according to international requirements, like:

Valid codes for currencies, countries, tax etc.

Mandatory tag names according to CEN BII Core.

Logical correlations between information element, i.e. that start date is at least lower than end date, sub totals must be totaled, multiplications give the correct result etc.

Validation against PEPPOL (EU) rules and regulations

Validation against EHF Common rules containing rules common to all EHF document types.

Validation against EHF rules and Norwegian legislation, like:

Organisation number must be specified for the seller/supplier.

«Your ref» must be specified.

Addresses, postal zone number and post office/city must be specified for the buyer/customer.
6.2. Dynamic Validation
The combination of ProfileID and CustomizationID in an XML document defines the validation rules applied to the document.
CustomizationID may be extended with more elements for specific trade or business validation rules.
6.4. Validation Rules
6.4.1. Norwegian Rules for Catalogue
6.4.2. Norwegian Rules for Catalogue Response
6.5. Validation Service
Difi's Validator is an application program used to validate EHF XML-files.